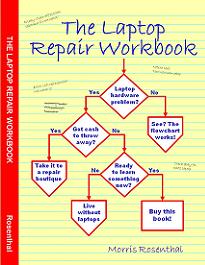 Order book for $24.95 or printable ebook for $13.95
Copyright 2010 by Morris Rosenthal
All Rights Reserved
Cellular Modem With No Contract - A 3G Laptop Modem For Internet Access Without A Phone Contract
Copyright 2010 by Morris Rosenthal -All Rights Reserved contact info
The printable eBook version of The Laptop Repair Workbook is now available for download anywhere in the world.
I've been waiting for years to buy a cellular modem for my laptop. The point of a cellular modem is to be able to connect to the Internet on the road or from a rural area where you have cellphone access but no broadband options (DSL, cable) other than expensive satellite. I never wanted a cellphone, and all of the standard laptop modem contracts from cellphone subscribers require a two year plan, with early termination penalties, etc. These days, the basic wireless functionality built into all laptops means you can get by on public hotspots while traveling, but I wanted a modem that would let me connect without buying a coffee or finding a library.
The modem shown above is from VirginMobile Broadband2Go, and it's turned out to be exactly what I was looking for. There are no contracts, you just buy the cellular modem outright at BestBuy (they call it a broadband laptop modem or some similar mixing of terms), which cost me $150, but hwich is now down to $99. Then you plug it into the laptop, the software automatically installs, and it takes you to the VirginMobile site to buy time. I've twice purchased the $10 / 10day plan, which only includes 100MB of bandwidth, but it's turned out to be more than I use traveling. The USB modem does get noticeably warm when in use, and I've also noticed that with my Toshiba laptop, if I unplug it while the laptop is turned on, I sometimes lose use of my external mouse or touchpad, which is no fun.

Other plans include up to 1 GB, good for 30 days, which costs $60, but I don't see the point, you'd have to be a little soft in the head to run around downloading video over a cellular modem, better to wait and find a hotspot. To put it in context, the various "unlimited" plans for cell phones cost anywhere from $30 to $60 a month, but none of them are truly unlimited. Some reserve the right to simply cut you off if you use too much bandwidth, others start charging you per MB, and I've heard horror stories about new users running up thousands of dollar in bandwidth fees their first month because they didn't understand their contract. VirginMobile gives you several options at sign up, I chose to simply get disconnected if I use up my time, you can always hop right back on and pay for more bandwidth if you want.

The speed test from SPEEDTEST.NET was performed with signal strength at one bar, and shows a download speed of 790Kb/s, or around 15X better than a clean dial-up connection, not to mention the fact you need a land line contract and an ISP to call if you're using your built in dial-up modem. But a news flash from July 28 states that VirginMobile is being acquired by one of the regular cell phone companies, so all of this may go away soon and I'll be out my $150!

The printable eBook version of The Laptop Repair Workbook is now available for download anywhere in the world.