Read Sole Proprietor Taxes On Kindle for $2.99
Alternative Energy Tax Credits
Copyright 2010 by Morris Rosenthal
All Rights Reserved
Per Diem or Actual Cost Deduction for Meals and Incidental Business Travel Outlays
Warning: These pages are not intended as professional advice. They are presented "as is", reader beware!
The good news is you can deduct 50% of the cost of eating when you're away from home for business. The better news is you can deduct 50% of the cost of entertaining people for business reasons, which includes food, tickets, cover charges, etc. The bad news is that the rules are a little "funny", so I suggest you read through Publication 463 to become completely confused. But in summary, as a self employed sole proprietor, you can deduct 50% of your meals taken when traveling away from home on business or when the meal is business related entertainment, assuming you aren't working for a client who reimburses you for food. The amount you can deduct is pretty much always limited to 50%.
In addition to meals, you can take incidental expenses while traveling, such as tips, or transportation to a restaurant if that's required. For both food and incidental expenses, you can take a per diem rate instead of saving all of the receipts and taking the actual out-of-pocket expenses.The current incidental rate is $3 per day, if you use actual expenses for food and the per diem for incidentals. The per diem rate for the whole package, meals, incidentals and entertainment (M&IE) depends on where you are traveling.The overseas per diem for food is pretty reasonable, but unless you live on burgers, you'll probably do better using actual expenses in the U.S. than the standard meal allowance per diem, which still gets divided in two. Keep in mind that self employed people can't take the lodging per diem overseas, just the meals and entertainment. The current (2009) MI&E per diem is $58 in high cost areas and $45 in low cost areas, this reflecting the high-low method for what the IRS charmingly refers to as CONUS, the Continental United States. The other method is to use the standard Federal per diem tables provided in Pub 1542, where any US local not listed gets a standard MI&E per diem of $39. The Federal method offers higher highs and lower lows, but you can't swap back and forth between high-low and Federal during the course of the year.
The entertainment deduction is a little less straightforward than eating to survive, especially since any meals you buy for others are not "meals" but "entertainment." For entertainment to be deductible, it has to be directly or indirectly tied to your business activity. To be directly tied to your business, you have to be able to prove that the main point of the eating out or going to the nightclub was to conduct business, and that you did, in fact, conduct business during the outing, and that you really expected that your business would benefit from the deal. It's not enough to think that maybe the potential client might like you if you pay for drinks, you're supposed to have mercenary purpose in mind. The IRS figures this is rarely the case if you are going out fishing or hunting, or taking a pleasure jaunt on a yacht, probably because so many people abused these. But if you are in the fishing, hunting or yachting business, it would be another story.
Immediately after laying down the law, the IRS goes on to qualify it by allowing for the indirect or associated benefit to your business. Your food and entertainment bill will qualify as an indirect expense if it comes right before or right after a significant business discussion and it's associated with the active pursuit of your trade. Since this includes not only getting new business but expenses to "encourage the continuation of existing business" it leaves the door wide open. You don't even have to discuss business while you're eating or taking in a show, and there's no time requirement (like two hours for business allows two hours for entertainment) as long as a substantial business discussion takes place. There's all sorts of lawyerly language used, which gives me the feeling that the IRS wants to discourage you from going nuts on this, but can't really do so since the deduction is probably intended to fuel economic activity for restaurants as much as to grease the wheels of your business.
There are some funny caveats, like the minor travel expenses involved. You can deduct the expense of traveling to a restaurant to eat a meal when it's food to keep you alive and working, but if you are treating others, it slides into the entertainment food expense, for which travel is not deductible. Also prohibited is an endless round of picking up the tab with business buddies on a regular basis, regardless of whether it meets the above tests. Another important exception is that the 50% deduction that applies to both food for yourself and food as entertainment does not apply to food as advertising. If you are providing food and entertainment to the general public to promote good will, it's an advertising expense which is 100% deductible. The IRS explains in a flowchart (maybe I'll stick it in below) when the 50% limit doesn't apply, but it turns out, when the limit doesn't apply, the meals aren't deductible by you at all!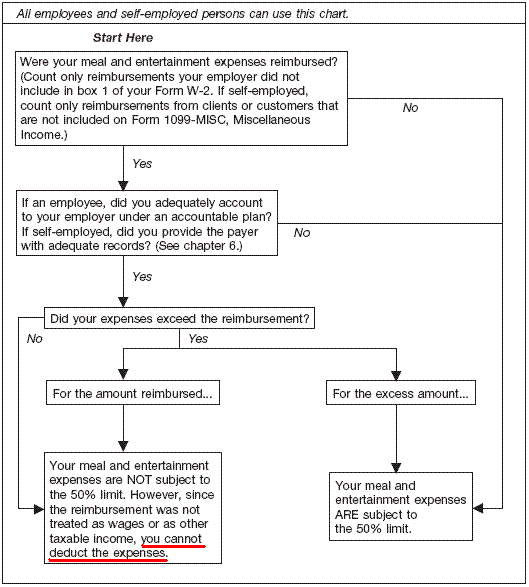 The IRS also points out that meals and entertainment for your spouse are generally not deductible. Then they go on to state that if you are entertaining a client, and the client brings a spouse, you can bring your spouse for that reason, then everybody is deductible. And then there's the question of whether an expense should be taken as entertainment or as a gift. If you are giving something or entertainment value to a client, say tickets to a concert, rather than taking the tickets as entertainment and deducting 50%, you can take them as a gift and deduct 100%, within the gift limits. It's your choice to chose the deduction that saves you the most money.
Planning A New Business | Estimating Business Taxes | Schedule C Deductions | Car Expenses | Freelancer and Contractor Payments | Section 179 Depreciation and Form 4562 | Employee Benefits and Pension Costs | Professional Services, Business Taxes and Fees | Hotel and Travel Expenses | Deducting Food and Entertainment | Inventory and Cost of Goods Sold | Sole Proprietor Statistics | Home Office Deductions | Self Employment Tax | The Self Employed Sole Proprietor