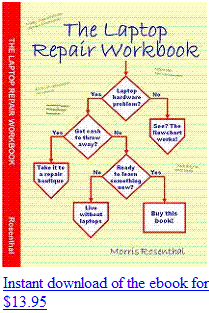 Copyright 2012 by Morris Rosenthal
All Rights Reserved
The Laptop Repair Workbook includes twelve full page troubleshooting flowcharts for laptop hardware troubleshooting and explanatory text for every decision point. The 190 page book starts with an introduction to laptop technology, purchasing and cost decisions before moving on to troubleshooting procedures.
The 20+ pages of illustrated laptop repair and testing procedures on this website are supplementary materials for my published book, "The Laptop Repair Workbook."

Unlike my troubleshooting book for PC's, which assumes a basic understanding of the the technology and concentrates entirely on troubleshooting, the first half of this book introduces the various technologies employed in laptops, and explains the troubleshooting process for most major issues before presenting the detailed flowcharts.

While professional technicians primarily use the flowcharts, hobbyists and laptop owners doing their first repair have been very positive about the work-arounds and cost trade-offs discussed in detail in the first half of the book.

A video introduction to The Laptop Repair Workbook
TABLE OF CONTENTS FROM THE BOOK
BEFORE WE BEGIN TROUBLESHOOTING 5
LAPTOP BASICS 7
WHAT'S MY LAPTOP WORTH? 18
SHOPPING FOR USED LAPTOPS 19
SHOPPING FOR NEW LAPTOPS 22
LAPTOP UPGRADES 26
THINGS THAT GO WRONG WITH LAPTOPS 29
BASIC REPAIR TECHNIQUES 34
SEARCHING FOR ANSWERS 39
TROUBLESHOOTING POWER PROBLEMS 43
TROUBLESHOOTING BATTERY PROBLEMS 47
LAPTOP VIDEO TROUBLESHOOTING 50
TROUBLESHOOTING LAPTOP OVERHEATING 55
TROUBLESHOOTING LAPTOP HARD DRIVES 57
TROUBLESHOOTING WIRELESS CONNECTIVITY 61
TROUBLESHOOTING MOTHERBOARD, CPU AND MEMORY 64
TROUBLESHOOTING LAPTOP DIAL-UP MODEMS 67
TROUBLESHOOTING DVD/CD PLAYBACK AND RECORD 70
TROUBLESHOOTING LAPTOP SOUND 75
WIRED NETWORK TROUBLESHOOTING 77
TROUBLESHOOTING KEYBOARD, POINTER AND USB 79
POWER FLOWCHART 83
BATTERY FLOWCHART 93
DISPLAY FLOWCHART 103
OVERHEATING FLOWCHART 113
DRIVE FLOWCHART 123
WIRELESS FLOWCHART 131
MOTHERBOARD, CPU AND RAM FLOWCHART 141
MODEM FLOWCHART 151
DVD/CD FLOWCHART 159
SOUND FLOWCHART 167
WIRED LAN FLOWCHART 175
KEYBOARD, POINTER AND USB FLOWCHART 183
Purchase an immediate download of the $13.95 printable eBook version of The Laptop Repair Workbook anywhere in the world. The trade paperback version can be ordered through your local bookstore, or through Amazon anywhere in the world.