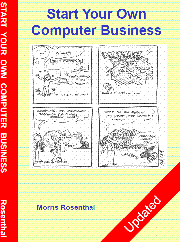 Computer Repair with Diagnostic Flowcharts
Copyright 2013 by Morris Rosenthal
All Rights Reserved
Starting Your Own Computer Business
Introduction to Building a Successful PC Repair and Service Business
Updated edition published February 15, 2013
Do you need your head examined? Probably, but I'm writing this book as a guide for those crazy folks who have already decided to start a computer business and are look-ing for some "been there, done that" advice. This guide is intended for the small start-up, not for somebody with deep pockets planning to launch a chain of retail stores. A lot of ink will be given to the hardware business, but software, services and training are where the small business stands the best chance of making a profit.
The good news is that you can start a computer busi-ness with no money down, just like they say in furniture warehouse commercials. The bad news is that it's a really tough way to make a living, and most people who try don't just give up after a year or so of working for free, they LOSE MONEY. Why? Because running a successful computer business requires a true Jack or Jill of all trades. Sure, you recognize from the get-go that you need to be able to assemble, sell, and service PCs to enter the hardware business, though you might overestimate your abilities in one or more of these areas. The more commonly overlooked skills include: software troubleshooting, purchasing, inventory control (if you have inventory, you're out of control), accounting, setting prices, customer relations, and time management. Perhaps the worst single pitfall in the computer hardware business is trying to compete on price. If all you have to offer is price, you're in for a nightmare.
Despite the warnings listed above, my basic "as is" ad-vice is: If you're going to do it, jump in and do it. Start small (not that you have a choice) and let your skills and goals grow together. Don't get carried away with setting up the infrastructure for a "successful business" before you've even sold your first dozen PCs or billed 50 hours of training. Accounting and inventory software are great, but the paper checkbook register from the bank will give you plenty of insight into how you're doing in the initial stages.
Don't invest money filling your basement with industrial racks or benches wired for networking. If you have a lot of cash on hand at the end of the year, there's plenty of time to stock up on toys after Christmas and still deduct them for the current tax year. Don't borrow money or mortgage your house. This book is about how to start a business on a shoestring. You can learn more about business by trying to do it on the cheap than by throwing a lot of money around. In my experience, people who start out in the PC business with deep pockets are no more likely to succeed than those who start out having to scrape together money just to pay for parts. There are a lot of consultants out there who make a living "helping" people get started in business, and you're better off if you can't afford them. Being on a tight financial leash will force you to think about what you're doing.
The 161 page paperback book "Start Your Own Computer Business" is available through your favorite bookstore or you can order through Amazon.com for $14.95, or buy the instantly downloadable PDF version for $11.95.